Home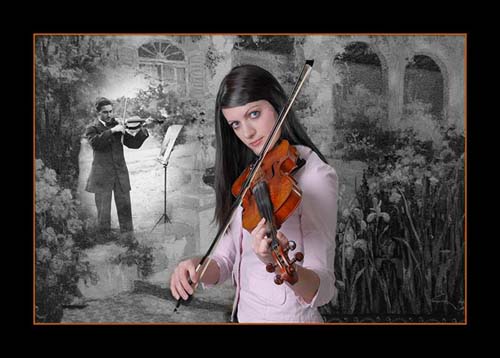 It has been said that a picture is worth a thousand words; some it seems, tell even more of a story. Once in a while a portrait comes along that seems worth even more.
"Grandfather's Violin" is just that. Lauren's senior portrait session started somewhat typical of many but it turned into the essence of what we do as portait photographers.
Reflecting on what the seniors do, we photographed her with her violin. Musical
instruments are common, and in fact, I had photographed her with her violin when she was younger. When mom Lynn D. started talking about her grandfather, the idea was formed. Lauren's great grandfather not only played the violin but they had a black and white photo of him playing his favorite hymn, "Oh Love That Wilt Not Die."
Discovering that Lauren was actually playing his violin meant we had to create something special. I converted the image to black and white so that I could add the black and white photo in the background, but kept Lauren in color. Matted and framed with the names and the hymn title added, it was a very sentimental gift for the grandmother.
I strive to create meaningful portraits every time, but, for me, this was a "home run."